Maternity Sessions are a very personal experience that allows a pregnant mother the chance to capture the splendor that accompanies pregnancy.  As a photographer, I know the importance of capturing this beautiful moment with professional portraiture.  As a recently pregnant woman, I know how personal the experience can be.  Read on to learn more about my experience as both the photographer and the client of my own maternity session.  Plus, I've included five tips for planning your maternity session below.
I find that pregnancy itself is a beautiful experience for women.  It's a magical experience for a woman to carry a child for nine months.  It is a time that can be filled with lots of joy, excitement, wonder, and amazement.  While nine months can seem like an eternity for a pregnant mother, it's a short-lived experience when compared to the many years of motherhood that follows.  And in some cases, the experiences within this brief period can easily be forgotten over time.  Maternity sessions offer a great way to honor and celebrate this extraordinarily special, yet brief moment in life.
For some women, pregnancy may be a time when they feel most beautiful, and scheduling a maternity session will be a must.  For others, pregnancy may not feel as beautiful or stunning due to all the physical changes our bodies go through; as a result, a maternity session may not sound as appealing.  The latter was the case for me during my second pregnancy.  My husband and I had collaborated on the maternity portrait for my first pregnancy.  While the results look totally fine for our needs, I personally was not comfortable with how I perceived myself from the session.  For my second pregnancy, I really had to question myself as to why I wasn't "feeling" a maternity session.  After all, as a professional photographer, I fully understood the importance of photographing such a momentous life event.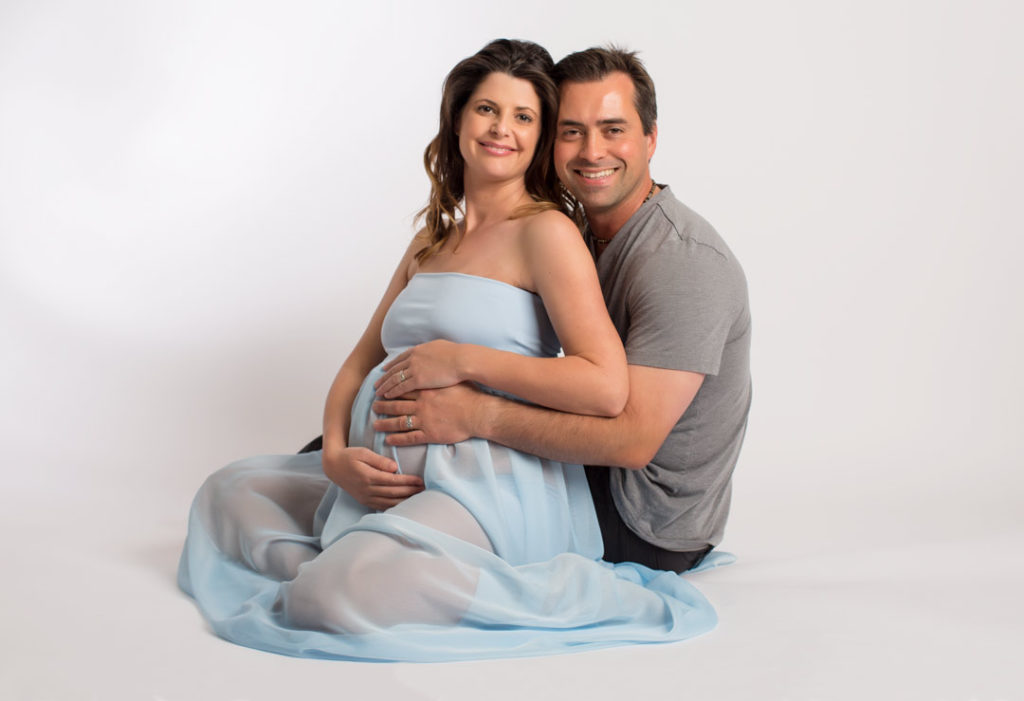 The answer to my question was found through the gentle encouragement from a photographer friend of mine, Cindie Wolf.  Each time we would meet, Cindie would remind me of the need for a maternity session, and she would ask me who I would have photograph my maternity session.  These discussions with Cindie led to a lot of self-exploration to identify the concerns I was having with a maternity session.  I found that my main concern was I didn't envision myself in the style of a modern maternity session due to concerns with my physical appearance.  I am a breast cancer survivor full of scars from past treatments and surgeries.  Additionally, my belly doesn't grow like a typical pregnant mother because, in my opinion, I don't have a lot of skin on my belly to stretch due to past reconstruction.  The idea of a professional portrait with a flowing gown and enormous belly just didn't seem like a possibility for me.
Still, I knew the importance of scheduling a maternity session, especially since I was pregnant with my second child after being told I most likely couldn't have any children due to age and effects of cancer treatments.   I also knew I would regret not having a visual memory to hang on my wall to remind me of the happiness that filled me during this pregnancy.  I continued to question myself on a maternity session.
The more I explored my reservations with my own maternity session, the more I was able to specifically answer what I wanted from a maternity session.  I found that I wanted to embrace the parts of my body that I wasn't finding to be beautiful at the time, which were my scars.  And I wanted to use these to tell my maternity story within the portrait.  The result was a self-portrait that I am very proud of photographing, and that has become an awarding winning image.
The inspiration for my maternity portrait began with the idea of showcasing my scars and my pregnancy.  Next, I knew that I wanted to choose an outfit that tied in the breast cancer theme.  As a photographer, I'm also aware of the importance of every detail within the image, so I chose to have my hair and makeup professionally done.  I wanted to find a stylist local to me so that I could have my hair and makeup done and quickly get into my studio for my self-portrait.  Rebecca Lopez (on Instagram @beccablends) did a fantastic job of listening to my ideas during our consultation and putting them into play with her amazing styling skills.  I also knew that I wanted the overall look within my portrait to portray the beauty of pregnancy and embody the empowerment I felt with experiencing my second pregnancy.  In the portrait, I proudly embraced the scars from the radiation burns, my port scar, my reconstruction scar, my man made belly button, and the difference in color of my belly.  The results are displayed in the image below that I titled, The Miracle of a Scarred Survivor.
In the end, I am very thankful for the encouragement Cindie gave me to have maternity portraits done during this pregnancy.  She challenged me as both a photographer and a woman as I looked deeply into my own personal thoughts and feelings that surrounded my maternity session.  She pushed me to creatively think outside the box for this maternity session to create a portrait that is different from the beautiful, romantic maternity images with the flowing gowns.  And in turn, I designed a beautiful maternity portrait that has a very personal meaning for me.
Following this self-portrait, Cindie and I collaborated together on a maternity session idea she envisioned for me.  Cindie specializes in photographing women with an emphasis on empowerment.  In hearing my story, she wanted to photograph me in way that incorporated my survivor scars with the flowing gowns and the beautiful, romantic look.  She invited me to her studio at Cindie Wolf Photography Portraits for the session.  The results are truly stunning!  She captured me in a way I didn't think possible.  Her posing techniques allowed for me to give the appearance that my belly was huge, which is what I was wanting.  She also captured the beautiful essence of a pregnant woman thankful for her little miracle.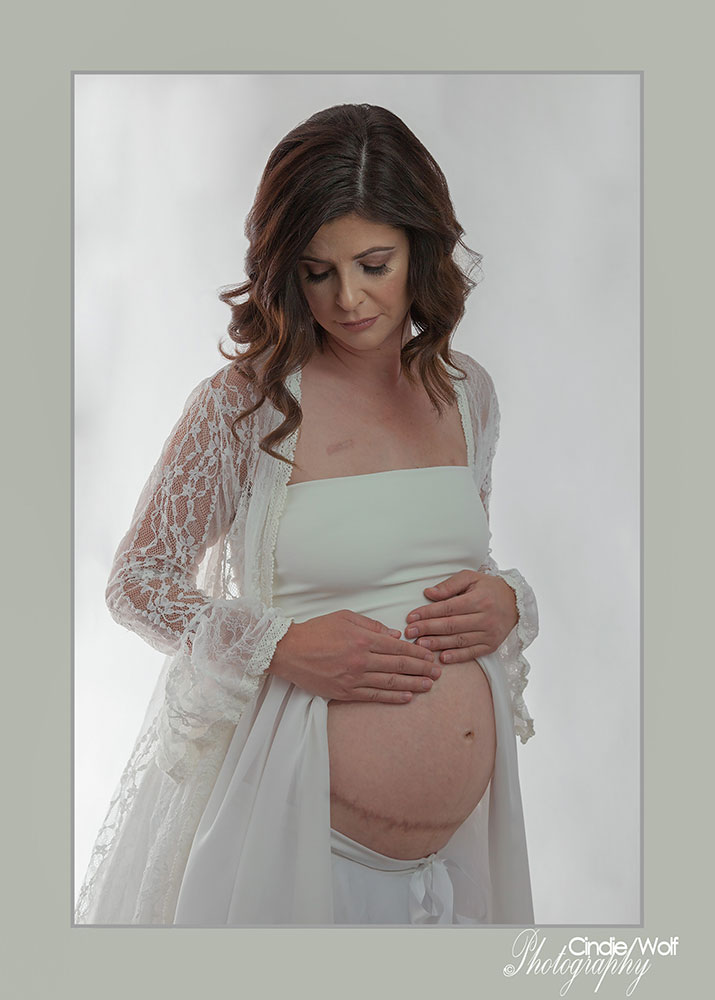 This experience was also a huge reminder of the importance and value of professional portraiture.  It's easy to let time pass and keep putting off the idea of a maternity portrait, but pregnancy is a very brief period that passes very quickly.  Having the gift of a professional maternity portrait to showcase your own pregnancy is an investment that I think you will cherish for many years as your children grow.  From this experience, I also have a much greater understanding of what other pregnant women might be experiencing during the entire maternity session process (from pre-planning to product design), something I will gladly keep in mind with future clients.
Five tips for planning your maternity session
1.  There are many photographers available to choose from with varying levels of experience and styles.  Invest in a photographer with a style of photography that you love.  The portraits will bring you more meaning and appreciation if they are captured in a style that you like.
2.  Maternity sessions are a very personal experience and a time to capture your own personal beauty.  Be sure to consult with your photographer before your session to help design and plan your session.  I offer in-person consultations before each session.  I find this helps me get to know and connect with my clients and helps me better understand their session needs.
3.  Select clothing for your session that complements the overall look you'd like for your portrait.  Also ask your photographer for clothing suggestions.  Sometimes they may also have maternity gowns available for the session.
4.  Have your hair and makeup professionally done the day of your shoot.  It's totally worth it!  It will be great pampering time for you during your pregnancy and will give you a great look that will last throughout your session.
5.  Schedule your maternity session around your 7 ½ to 8-month mark.  Your belly will be big at this time, but you shouldn't feel huge or uncomfortable as you might feel at the 9-month mark.
Something Extra for Those Currently Fighting Cancer
Magic Hour is an amazing organization that provides professional photography services for free to current cancer patients.  They pair cancer patients with local professional photographers who are members of Magic Hour.  I am proud to say that I have recently become a photographer for Magic Hour.  Find out more by visiting them at www.magichour.org.